We may all have seen electric buggies zipping about in golf courses, hotels and just about any large private compound, but what you may not know is that electric buggies can also be driven in residential estates. Wow! Really? That's fantastic! However… There is a catch.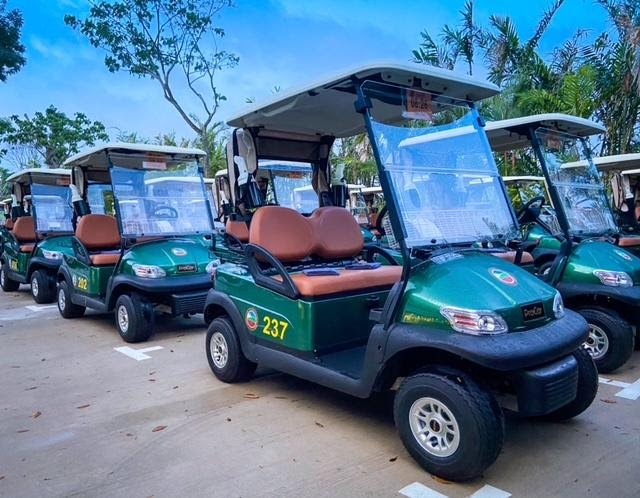 Electric buggies have traditionally been used in golf courses since the 1950s. The design and technology found on some of these 4-wheeled, car-like contraptions have since evolved from its humble beginning as 3 wheeled motorized trollies used by women to transport their groceries, into what it is today. Some electric buggies are now designed with luxury and performance in mind and have inevitably captured the attention of the world's most rich and influential people. These days, it is not uncommon to spot a buggy parked alongside supercars in certain residential estates. Here at ATS Group of Companies, we represent both the ProCar and Garia brand of electric buggies. We have helped many organizations and individuals pair up with the buggies that most suit their needs.
When someone contacts us in search of a buggy, our friendly Sales Manager, Brian will quickly ask them a couple of questions that will help to swiftly determine their needs and wants before we are able to offer them our recommendations. "How many people are to be ferried on the buggy?" This is important as we have to make sure that the buggy is able to safely and comfortably carry the number of passengers that the customer intends. Other questions include "Where will you be using it?" "Are you also looking to carry goods? If so, what is the estimated dimension and weight of the items?". These questions help us to quickly narrow down to the exact model that our clients require. Our ProCar Elite Electric Buggies come in many different configurations. We have 2 seater buggies right up to a 14 seater bus for transporting a large group of people. We also have buggies which are specially configured to carry goods in cabinets, which very often can be customized to meet their exact needs.
Now, here comes the interesting bit. When a client calls in and indicates that he is looking for a buggy for his use in a residential estate, we will ask a few additional questions that are only reserved for this special group of customers. "Will you be carrying any small children or pets on the buggy?" We highly recommend that there are sufficient front facing seats so that the driver can always keep a watchful eye on young children and pets who are seated behind. "Are you keen to consider some upgrades such as Sport Rims, Full Disc Brakes, Bluetooth Speakers, Lithium Battery and custom colours?" We offer upgrades to our clients who are keen to have a customized ride. With 14 different standard Metallic and Non-Metallic body colours and 3 seat colours for the ProCar Elite Electric Buggy, our clients are spoilt for choice.
One final question that is definitely Brian's favorite is "Are you looking for something special? Perhaps a buggy that is known as The World's First & Only Luxury Buggy that will look great parked at your front porch alongside your Ferrari 812 GTS (or any other insanely expensive and envy-inducing ride)?" When the answer to this is a resounding "Yes", the client will get to peruse through the Garia catalogue and select his preferred model, seating configuration, paint finishes, upholstery, trims and accessories. With the Garia, the client who is often an Ultra High Net Worth Individual have the choice of several aesthetic upgrades such as Carbon Fiber components from Mansory, a Luxury Car Modification Firm based in Germany, 12" alloy sport rims, built-in refrigerators, custom colours & upholstery and stereo system. There are also Special Editions such as the Garia SuperSport which is a collaboration between Garia and Mercedes and the Garia Mansory Edition which is a collaboration between Garia and Mansory.
We were talking about a catch earlier in the article when I revealed that buggies can be driven in residential estates here in Singapore. Well, Sentosa Cove, an upscale residential enclave located in the eastern part of Sentosa Island in Singapore happens to be the only residential estate within Singapore which allows its residents to own and drive buggies to get around. Here's where you can leave your supercar in your front porch in favour of a ProCar or Garia Electric buggy to get to the beach, have a meal at Quayside Isle or do some grocery shopping at Jason's. A buggy permit, renewable on an annual basis is required and the buggies have to be insured before they are allowed to be driven within the estate. Drivers of buggies within Sentosa Cove have also to be in possession of Valid Class 3 licenses or equivalent. Being a gated residential estate with Oceanfront Villas, Waterway Bungalows and Condominiums with very little vehicular traffic and a speed limit of 40km/hr (Buggies must have their max speed set at 25km/hr), Sentosa Cove is the perfect spot for an idyllic emission-free drive on one of our fine buggies.
Are you interested in an electric buggy for your operational or private use? If you are, you can do no wrong by contacting Brian for a chat.
You can get in touch with Brian by calling him at +65 9615 5173, or just drop him a WhatsApp text! Brian is always keen to talk buggies and help you find your perfect ride.